Writing: 90% Procrastination, 10% Panic
Today I am thrilled to host Sherry D. Ficklin, bestselling author of EXTRACTED.
Sherry D. Ficklin is a full-time writer from Colorado where she lives with her husband, four kids, two dogs, and a fluctuating number of chickens and house guests. A former military brat, she loves to travel and meet new people. She can often be found browsing her local bookstore with a large white hot chocolate in one hand and a towering stack of books in the other. That is, unless she's on deadline at which time she, like the Loch Ness monster, is only seen in blurry photographs.
She is the author of The Gods of Fate Trilogy now available from Dragonfly Publishing. Her previously self-published novel After Burn: Military Brats has been acquired by Harlequin and will be released in 2015 with a second book in that series to follow. Her newest YA steampunk novel, EXTRACTED: The Lost Imperials book 1, co-written with Tyler H. Jolley is now available everywhere books are sold and her newest YA novel, Losing Logan, is due for release in 2014 from Clean Teen Publishing.
I've been stalking following Sherry for a few years now, ever since I read Book 1 of The Gods of Fate Trilogy. Sherry is one of the few YA authors that I can honestly (and happily) say, "Everything I've read, I've loved." Especially Extracted! 
Sherry has been kind enough to answer my questions over the years, and I am so happy she was willing to give us a post on her writing process. And, as an added bonus, check out the excerpt of her latest release, Queen Of Someday, at the bottom of the page!
Welcome Sherry!
*****
They say writing is 90% procrastination 10% panic. I think that's probably true. For me it's a cycle that begins with a fantastic idea. It's shiny and beautiful and totally genius. I love it. It's my pressssious.
Then I outline, the amount of which depends on the story I'm telling. Contemporary novels get the basics; character bibles, basic plot, and twisty bits I want to add in. For something like a time travel novel, I dig in with timelines, historical research, and things like that.
Then the writing begins. For the first maybe 10 chapters, it's like being in a new relationship. Everything is gold. Until suddenly, it's not. Suddenly, you just walked in on your book sitting on the toilet and the romance is gone faster than pot at a Dave Matthews concert. That's when you sit back, remember to eat and bathe and start filling your writing hours with playing on pinterest or updating your Tinder profile. ANYTHING not to be writing.
At this point -- and it will happen to you all at some point -- the best thing you can do is ride the wave of distraction. Put the book away, stop looking at it. For a week AT MOST. Fill that week with adventures, with relaxation. Take a yoga class, or do what I do and eat Oreos in your yoga pants while watching Firefly reruns.
Then, after a week of not thinking about it, open it up with fresh eyes. Read it as a reader. Rekindle the magic. It's like reliving your first date with your spouse. It helps you remember what you liked so much about it to begin with.
Then you keep writing.
Now if you are like me, this love hate process can happen several times during the writing of one book. To help I set myself hard deadlines, if not for a publisher, than for a beta reader, some person external to me that will hold me accountable if I don't finish in my window. Because starting a book is easy, but finishing one is hard. That hard deadline gives me that 10% panic that I need to kick myself in gear sometimes. Do you know why they call it a deadline? Because if you miss it, your editor gets to kill you.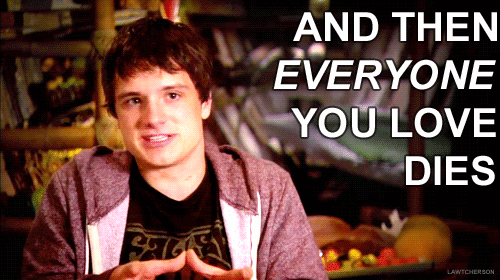 That is my super helpful professional advice. It probably won't help, because at the end of the day, what works for one person might not work for another and the only way to learn what works for YOU is to just do it. So you, yes you, go write your book!
 *****
Just Released! Queen of Someday, by Sherry D. Ficklin
Before she can become Catherine The Great, fifteen-year-old Sophie will have to survive her social-climbing mother's quest to put her on the throne of Russia—at any cost.
Imperial Court holds dangers like nothing Sophie has ever faced before. In the heart of St. Petersburg, surviving means navigating the political, romantic, and religious demands of the bitter Empress Elizabeth and her handsome, but sadistic nephew, Peter. Determined to save her impoverished family—and herself—Sophie vows to do whatever is necessary to thrive in her new surroundings. But an attempt on her life and an unexpected attraction threatens to derail her plans.
Alone in a new and dangerous world, learning who to trust and who to charm may mean the difference between becoming queen and being sent home in shame to marry her lecherous uncle. With traitors and murderers lurking around every corner, her very life hangs in the balance. Betrothed to one man but falling in love with another, Sophie will need to decide how much she's willing to sacrifice in order to become the empress she is destined to be. In a battle for the soul of a nation, will love or destiny reign supreme?
READ ON FOR THE EXCERPT!!
"If I could, I would offer you my heart, my soul, and make that be enough. But I know it is not. I know that Peter is your destiny. You are going to be the most beautiful, clever, kind empress Russia has ever seen. And I want to be there for that. But I can't think about that now because today, in this moment, all I want is you. The thought of losing you cuts me to my very marrow."

I look away, even as he draws me closer. The war rages inside me, one part wanting nothing more than to kiss him until the sun rises, another part knowing why I can't.

He tilts my chin up gently.

"If you want to send me away, tell me only that you do not love me, and I will go. I will never speak your name again, never touch your hand. I will pretend that the loss of you hasn't killed me."

I sigh, my hard-fought resolve fading quickly.

"I could never say those words, because they would be the gravest lie. Of course I love you. I love you so much that I risk everything just to come to you tonight. If anyone knew—I would be ruined, sent away in a cloud of scorn. No one would ever have me, and I would bear the shame all my days."

He takes my face in his hands.

"I would have you, in shame or sin, I would have you in any way I could, in any way you could give yourself to me."

He kisses me again, and I know I've lost. Reaching up, I wrap my arms around his neck, holding him to me. He smiles against my lips.

"My sweet Helen, for you I would be Paris, and for your love, I would defy God himself and then return to you for a kiss."

"Peter and the empress will return in a few days. What will we do? Meeting like this… it's too dangerous," I say, unwilling to pull away again.

"Do you trust me?" he asks solemnly.

I nod. "I do."

"And do you love me?"

"With all my heart and my life, I do."

He kisses my hair.

"Then trust me. Give me a few days and by the time they return, I will have a plan. In the meantime, if you need me—"

"I always need you," I interrupt.

He grins.

"If you want to meet me…" I open my mouth to interrupt again, but he puts a finger against my lips, which I kiss. "Leave me a message in a book. John Wilmont's letters to his mistress."

I frown. "Am I to be your secret mistress?"

He shakes his head. "No, my love. I will be yours."